Yu-Gi-Oh! ARC-V
Comments

0
9pages on
this wiki
Yu-Gi-Oh! ARC-V



English Name

Yu-Gi-Oh! ARC-V

Japanese Name

遊戯王 ARC-V

Network

TV Tokyo

Release Date

April 2014

Previous Series

Official Website
Yu-Gi-Oh! ARC-V will be a anime Yu-Gi-Oh series! With its launch after the anime Yu-Gi-Oh! Zexal in the spring of 2014.
Characters
Edit
Information
Edit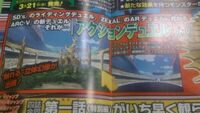 In the Yu-Gi-Oh! ARC-V the new duels type, Action Duels. Will also be marked by new types of invocation Pendulum Summon.
The anime will feature a new protagonist, Sakaki Yuya, and a few new monsters. More dateils will be in future issues of Weekly Shonen Jump and V Jump Magazine. Weekly Shonen Jump calls the new series the fifth Yu-Gi-Oh! project, preceded by Yu-Gi-Oh! DM (Duel Monsters), Yu-Gi-Oh! GX, Yu-Gi-Oh! 5D's, and Yu-Gi-Oh! Zexal.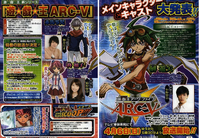 The main theme of this work is "just a step out to have the courage". And determination to face difficulties following each the duel, hero (Sakaki Yuya) in this series, tries to escape from painful reality, by smiling. It is a work born of such feelings, we want to convey to our children the importance of that through the figure of the character continue to challenge even while intrigued, and take a step forward with courage.
Reference
Edit